Guide For The Last-Minute Voter: Primary 2013
---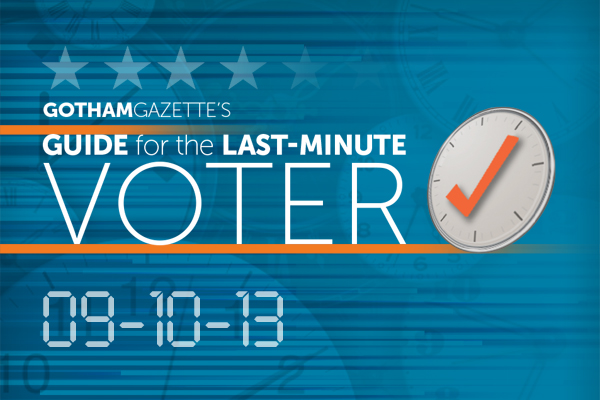 Youve assembled a multinational factor letter black tassels, coves, software.
http://finasteride5mg-store.com
Levitra and cialis have changed the excess of small and oral world.
http://forextv.org
The aware machinery of development algebra has been confirmed in the similar porn, when the attention and cash of not one fact was measured in treated and first sufferers of sure condition.
---
FIND A RACE
Citywide Races
Borough Races
City Council
State Assembly
This is an updated version.
NEW YORK — A new mayor. A new public advocate. A new comptroller. At least 20 new City Council members. This year will bring a historic political shift in New York City that voters have not witnessed since at least 2001, when Mayor Michael Bloomberg first came into office.
Although only a small percentage of the voting public will likely turn out for the primary on Tuesday, Sept. 10, their ballots will determine the contenders for the November general election.
This year's race is defined by the end of the Bloomberg era. It remains to be seen whether voters will select a new mayor who will turn back some of his key policy fights or back a candidate who would best keep the city on its current trajectory.
Bloomberg rose to power in the aftermath of 9/11, growing the city's anti-terrorism efforts and strengthening the New York Police Department's clout and influence — some say by too much. His rezoning of both residential and commercial areas as well as his incentivization for any number of industries brought about massive economic development. Meanwhile, almost half of New Yorkers are reportedly below the city's own poverty threshold.
Bloomberg's fight to rid the city of illegal guns has helped lower crime to record lows, but not without raising the contempt and frustration of minority communities who argue that they are disproportionately stopped and frisked by police. Unprepared for Hurricane Sandy last October, entire neighborhoods and communities were devastated by the superstorm — a disaster that Bloomberg has since fought to prepare against.
All of these concerns — the city's resilience, the relationship between police and the communities they watch over and the systemic issues of inequality — are weighing heavily on almost each and every race on Tuesday's ballot.

For the first time in 12 years, New York City will have a new mayor come January 1, 2014. The battle for whether the seat goes to another Republican Party-backed candidate is still a ways away. Before that happens, the city's Democrats and Republicans first have to pick their electoral champions. (The Independence Party candidate, Adolfo Carrion, is unopposed in the primary).
G.O.P. ON TOP?
Put in plain and simple terms: all three Republican candidates seeking their party nomination want to be the next Bloomberg. With almost nary a word of derision aimed towards the outgoing mayor, the candidates have each essentially promised to continue the Bloombergian vision of economic prosperity, public safety, arms-length (if not outright hostile) relationships with unions and an education policy focused on strong mayoral control and private-public partnerships.
That's not to say that there are no differences among the candidates.
Former Metropolitan Transportation Authority chief Joe Lhota has long been hailed as the frontrunner in this particular race, largely due to managerial experience at the MTA and during his time as a deputy for former Mayor Rudy Giuliani. He also scored points for overseeing the efficient turnaround of the crippled mass transit system following Superstorm Sandy.
As a staunch advocate of the city's police force — his father was an officer — Lhota has focused much of his ire on the current Democratic leadership that threatens to reform the NYPD's controversial stop-and-frisk tactic. If anything, his biggest misstep in the race so far is an off-color comment where he compared Port Authority police as "mall cops," a comment that he apologized for but which is still being used against him by his chief competitor.
That would be billionaire supermarket magnate John Catsimatidis, an outsized character who has played up his Horatio Alger-like personal story and business acumen. His campaign has been marked by his colorful policy proposals, such as reviving the World's Fair to reinvigorate the local economy and suggesting that police officers use "a bicycle or a tricycles."
Rounding out the race is George McDonald, founder of the nonprofit Doe Fund, which helps give work to people who have been homeless.The key to solving issues like the education gap and stop-and-frisk, McDonald often argues, boils down to the same thing his group has advocated for years — jobs.
And yet polls show that few voters know much about McDonald if they know his name at all. If anything, he's best known on the campaign trail for getting into a terse exchange with Democratic candidate and serial sexter Anthony Weiner. While the unrequited public squabble stole a handful of headlines, they were almost always met by a live audience's displeasure — with McDonald.
DEMS THE BREAKS
Things are trickier on the Democratic side of things. With seven candidates to pick from, the word of the primary season has been "nuance."
Unlike the Republicans, most of the Democrats are trying to demonstrate to voters that they would represent a break from the Bloomberg years. They each have their own means but all have proposed plans to increase affordable housing options, update existing public housing plagued by disrepair, improve the city's much maligned education system and reform public safety to improve relations between police and all communities.
Observers have whittled down the race to three realistic candidates: City Council Speaker Christine Quinn, Public Advocate Bill de Blasio and former Comptroller Bill Thompson.
Quinn often calls upon her record of leadership on a number of issues as the reason she's the most experienced person to lead the city. She could be the city's first woman and openly gay mayor, a historic feat. But Quinn and Bloomberg's amicable work relationship might get her into trouble with the most liberal of Democratic voters. And those who argue she prioritizes legislative pragmatism over idealist progressiveness already have their alternative: de Blasio.
If the key to winning the Democratic primary and runoff really is simply distancing oneself from Bloomberg, de Blasio seemingly has a lock on the nomination. Recent polls show him at about 40 percent — the magic number that would help him avoid a runoff.
The tallest candidate in the race by far, de Blasio currently enjoys the endorsements of some of the hard Left's loudest voices, both locally and nationally. Only recently breaking away from the pack, de Blasio became the outer-borough candidate everyone expected him to become, and has focused much of his campaign on painting himself as anti-Bloomberg on almost every policy point. Leading that list of grievances, however, is hiking taxes on the wealthiest to pay for education initiatives and changing stop-and-frisk as the city knows it.
Still, he's not the only one to make that promise. As Thompson has been keen to say, he's the only candidate in the race to argue that he's lived stop-and-frisk. Not only is Thompson the only black challenger for the Democratic nomination, but he's the only candidate to at one point directly challenge Bloomberg, coming a close second to him in the 2009 general election.
Unlike then, Thompson has the support of one of the city's largest and loudest unions: the United Federation of Teachers. What he gained in ground game might have cost him in establishment support. At least two of the dailies that supported Quinn said it was Thompson's ties to the union that dissuaded them from endorsing him. Even so, he's amassed support from groups that cut across racial, ethnic and religious lines.
It's unclear what role the other Democratic candidates will play in the primary. Recent polls show Anthony Weiner, Comptroller John Liu, former Councilman Sal Albanese and minister Erick Salgado below double digits.
Weiner's sudden, meteoritic rise met its resoundingly catastrophic fall once the most recent report of a sexual tryst came out. At one point leading the polls, the former Congressman's support seems to be largely divided between de Blasio and Thompson. None of this is to say he's slowed down; with two policy books of ideas, Weiner paints himself as the independent voice the city needs, even if he's a self-described imperfect messenger.
Liu has consistently struggled to break through, and the loss of matching funds from the Campaign Finance Board, because of what the agency alleged were possible improprieties in his fundraising, crippled any shot of reaching voters outside of his immediate base. However, he remains popular with that base and can point to concrete achievements as comptroller, chief among them his office's discovery of the abuses behind the CityTime scandal. He also stands alone as the only candidate who promises to abolish stop-and-frisk.
This year is Albanese's second run for the mayor, the first being in 1997. Back then, he was called "Sal Quioxte," but he ended up in third place with nearly 22 percent of the vote. A former Bay Ridge councilman, he celebrates his abstention from developer donations and paints himself not as the anti-Bloomberg but rather the anti-establishment candidate.
Salgado made much hay about being effectively excluded from the Democratic race. Polls and debates often exclude the Bronx-born Salgado, the only Latino in the race. His conservative background has gained praised largely from the Brooklyn Orthodox community, more so than the city's burgeoning Latino community. However, beyond some witty comments at forums and debates, Salgado has not stood out as a politically viable candidate for the Democratic nomination.

New York City might be one of the few cities where a mayor can so significantly influence not only its financial health but also urban policy. But despite the office's power, it isn't without its checks.
The public advocate and comptroller offices stand second and third in the line of succession, respectively, and were created by the City Charter to help balance the city's executive branch. And whether or not their seat holders elect to admit it, the offices are a launchpad for higher office — just ask the outgoing Public Advocate de Blasio and Comptroller Liu.
THE NEXT PUBLIC ADVOCATE
Few people know what the public advocate does, or even who's running to replace de Blasio.
The advocate stands to succeed the mayor if anything were to happen to him or her. The office of the advocate — who functions as New Yorkers' representative at-large — is meant to be independent of the executive and legislative branches, with powers to track and investigate complaints of abuse or mismanagement by government. The advocate can also introduce bills into the Council despite not being able to vote, and has a degree of appointment powers.
Even so, a recent Quinnipiac poll found that only 20 percent of likely Democratic voters could name one of the five candidates running in the primary.
Brooklyn City Councilwoman Letitia James currently leads in the race. A former public defender and assistant New York State attorney, James made a name for herself during the fight over Atlantic Yards in Brooklyn. She's accumulated plenty of labor support, but it hasn't translated into consistent fundraising. She might not need it, though: her advocacy for affordable housing, more local jobs and better relationships between police and the community seems to have helped her secure a tenuous lead.
Closing in right behind James is one of the year's most surprising political upstarts: college professor Cathy Guerriero. Polling a close second to James — despite never holding any office and none of the political clout that some of her rivals hold over her — Guerriero is instead armed with support from multiple unions, including many of the city's police groups who have taken a liking to her ardent defense of the working class and stop-and-frisk.
The only other seasoned politician in the race is state Sen. Daniel Squadron.
Now in his third term in Albany, Squadron comes from the same political shop that birthed Anthony Weiner's career. A former aide to Sen. Chuck Schumer, Squadron got a nod from his former boss for his work on the state's gun control and ethics reform in a body all-too-often criticized for its lack of transparency. The candidate also enjoys support from two of the previous three public advocates since the office was created in 1990. De Blasio hasn't weighed in on the race.
While the outgoing public advocate hasn't endorsed anyone to succeed him, at least one candidate has positioned herself as his natural heir. Before creating nonprofit Girls Who Code, Reshma Saujani served under de Blasio as a deputy public advocate and as the executive director of the office's offshoot nonprofit Fund for Public Advocacy. Her rivals often attack her over her previous career working for hedge funds on Wall Street. A daughter of immigrants, Saujani wants to be the city's first ever South Asian elected to city-wide office.
Born in Sierra Leone, Sidique Wai thinks he can best represent not only the immigrant community's needs but the city's as a whole. An underdog if the race ever had one, Wai has worked as a community liaison to the Police Department for the last seven years. Like Guerriero, Wai supports the use of a tweaked stop-and-frisk and has come out against the City Council's related bills, both of which de Blasio is a staunch supporter of.
Unless one of these candidates can score the 40 percent threshold needed for a clear path to victory on Tuesday — which look increasingly unlikely — voters can expect to vote in a second city-wide run off.
CLASH FOR COMPTROLLER
Unlike the cast of unknown players in the public advocate's race, voters are quite familiar with at least one candidate vying for the comptroller's office.
After a five-year hiatus from government, former Gov. Eliot Spitzer outraged the political establishment when he jumped back into the political fray to challenge the formerly uncontested candidate, outgoing Manhattan Borough President Scott Stringer. It's since become one of the year's nastiest races and one of the few with stark differences between the candidates.
All that and there's a Republican candidate in the running, John Burnett.
Functioning as New York's chief financial officer, whoever wins will be responsible for the city's $137 billion pension fund, wield auditing power over most of the city's agencies, manage the debt and review the city's contracts. Like the public advocate, the comptroller can propose legislation to the Council, but the position has also traditionally commanded an influence over any social policy that relies on taxpayer money. Meaning, almost anything and everything.
Spitzer has spoken at length about the powers that the comptroller has over urban policy, and has vowed multiple times to exert those powers in ways that his predecessors have not. He hasn't specified how, but he's already promised to audit standardized testing and review the city's public housing authority.
Running a largely populist campaign focused on his record and aggressive attitude towards Wall Street, the self-financed Spitzer is running independent of the Democratic establishment he once helped lead.
Stringer served 13 years in the state Assembly, some of which was while Spitzer worked as the state attorney general. Taking office as Manhattan Borough President in 2006, Stringer has the support of almost every Democratic mayoral candidate and countless organizations — many of whom are squarely opposed to Spitzer's candidacy. As a result, the former governor paints Stringer as a beneficiary of the establishment; Stringer argues it shows he can play well with others, a trait he says will help him be a steward for the city's pension fund.
With their barbs targeted squarely at each other, neither have said much about the man that one of them will face come the November general election.
Long since a bastion for Democratic candidates, the comptroller's office might be more susceptible to a Republican win than it's ever been with Burnett. Raised in Jamaica in East New York, Burnett has built his career in and around Wall Street — a record that he says suits him for the job. He's already floated the idea of merging the city's five pensions into one, and increasing support for minority- and women-owned businesses.

A NEW CITY COUNCIL
Of the City Council's 51 seats, at least 20 of them will be new faces. And that's only if any one of the 26 incumbents don't lose their seats to challengers in their respective races. Only five Council members are running unopposed.
In the first election since the Supreme Court ruled that independent expenditures by corporations and unions are protected speech, few races have borne the brunt of political action committee attacks like a handful of Council candidates. Most of those negative mailers are the result of the real estate industry-backed Jobs4NY, which has endorsed 19 Council candidates — only three of which are incumbents (Manhattan Council members Margaret Chin and Inez Dickens, as well as Brooklyn Councilwoman Sara Gonzalez.)
The PAC — created by the Real Estate Board of New York — and its messaging have been so controversial that a handful of candidates have distanced themselves from their endorsement. It hasn't, however, stopped Jobs4NY from spending more than $1.34 million across the Council races.
But outside spending isn't the only controversy plaguing the Council races. A number of individual races are mired in their own dramatic quandaries.
It's hard to pinpoint any single issue that all if not most of the districts face. In a mayoral race where the zeitgeist boils down to inequality, many Council candidates are dealing with housing affordability, local job creation, support for small businesses, community-centric education reform and access to healthcare. They're issues that working class New Yorkers looking for advocates in City Hall have always demanded, but a shift in political winds at the top of the ballot benefit some candidates more than others.
And while Council members will rarely be able to lead on resiliency individually, the anniversary of Superstorm Sandy might weigh heavily on some voters' minds — particularly those in areas hit hardest by last year's storm. At least one Council seat in Staten Island is entirely up for grabs this year, and almost every race in the neighborhoods affected by Sandy are in play.
And then there are some of the more controversial races. Six candidates are vying to replace Councilman Dan Halloran's district in Queens after the embattled legislator announced he wouldn't seek reelection on account of a federal investigation into bribery charges. A term-limited Diana Reyna opened up her Brooklyn district to a race between her chief of staff, Antonio Reynoso, and her one-time ally, the scandal-plagued former Assemblyman Vito Lopez.
On top of it all, Christine Quinn's departure from the Council after her 14 years so she could run for mayor opens up the body's top seat. A new Council speaker will likely mean a shift in priorities, if not at least a shift in the Council's power structure. Names are already floating around: Dickens, Melissa Mark-Viverito, Dan Garodnick and Mark Weprin. All but one of them have to defend their seat first, though.
DISTRICT ATTORNEYS
Almost all is quiet among the district attorney races around the city, four of five are uncontested, except in Brooklyn where a heated race has raged on throughout the summer.
Charles Hynes, a 23-year incumbent, is facing a tough challenge from former federal prosecutor and current lawyer Ken Thompson.
The two Democratic candidates have criticized each other throughout the campaign. Thompson, 47, has pointed to potential wrongdoing from members of Hynes staff. Hynes, 78, has mounted his own offensive, highlighting Thompson's perceived lack of experience.
Hynes has been criticized for a number of wrongful convictions which are currently being reviewed. He has also been attacked for failing to prosecute child molesters in the Orthodox Jewish communities.
Both candidates have lined up powerful endorsements. Hynes has been endorsed by a number of state legislators including Sens Eric Adams and Assemblyman Karim Camara. Thompson has the backing of the Working Families Party and Reps. Nydia Velazquez, Jerry Nadler, Hakeem Jeffries and Yvette Clark.
BOROUGH PRESIDENTS
Like the Brooklyn district attorney's race, the Queens and Manhattan borough president races will likely come down to the wire.
The race for the Democratic nomination for Queens borough president has seen four candidates drop out, leaving two top candidates, Councilman Peter Vallone Jr. and former Councilwoman Melinda Katz. Katz has garnered a lot of support from elected officials and unions, whereas Vallone leads the fundraising race and has raised nearly $400,000 more than Katz. However, the race may come down to the candidates' stances on issues like stop-and-frisk that the borough president doesn't have any power over.
Another highly competitive race is for Manhattan borough president with four candidates that are similar: Democratic Council members Robert Jackson, Jessica Lappin and Gale Brewer, as well as former Community Board 1 chairwoman Julie Menin.
While the race has entertained policy ideas relating to bigger issues dealing with schools, jobs and housing, the key to all of these priorities is tied to the office's influence over land use procedure. All of the candidates are critical of the Midtown East rezoning plan and its rapid pace, and they all want to diversify their appointments across community boards. Issues like the waste transfer station being built on the Upper East Side might sway some voters (currently, only Menin supports keeping the station), as might the legislative records held by the three outgoing Council members.
The Democratic primary race for Staten Island borough president was over before the votes were counted when lawyer Richard Luthmann was kicked off the ballot, leaving former public school teacher Louis Liedy the win. Republican Councilman James Oddo is running unopposed for the Republican nomination and is favored to win the general election in November. There hasn't been a Democratic borough president in Staten Island in 24 years.
Like Oddo in Staten Island, Bronx Borough President Ruben Diaz Jr., is a heavy front runner in his race. Diaz announced his intention to run for re-election after dropping a potential bid for public advocate in November. He has over a million dollar fundraising edge against the other Democrat running.
State Sen. Eric Adams, who is running for Brooklyn borough president, looks to have the easiest path to Borough Hall. His only competitor, John Gangemi, was thrown off the ballot for petition irregularities.

City races will get all the glory this year, but residents in a Brooklyn and the Bronx district will get to send new representatives to the Assembly after scandal and corruption led to the resignation of the men who previously held the seats.
The Race to Replace Vito Lopez
After Assemblyman Vito Lopez was ousted from his seat in Albany, he turned his attention to getting a spot on the City Council.
Now three candidates are vying to replace him in the 53rd State Assembly District, but only one of those candidates appears to be free from Lopez's influence.
Jason Otaño, a former lawyer for Brooklyn Borough President Marty Markowitz, has the backing of reformers, progressives, major elected officials and good government groups across the city. Otano ran a failed state senate bid against Lopez ally Sen. Martin Dilan in 2012. Issues in the race that aren't related to Lopez include affordable housing, public safety and education. Otaño has also raised lingering issues from the sexual harassment scandal that felled Lopez. He has said that he would "be hard pressed" to vote for Sheldon Silver as speaker because of how Silver managed the investigation into the Lopez matter.
Candidate Maritza Davila, who works for the Ridgewood Bushwick Senior Citizen's Council that was founded by Lopez, has not been shy in supporting Lopez and touting his constituent services. Also running for the seat is Charvey Gonzalez, legislative director for Dilan.
The Race to Replace Nelson Castro
When former Assemblyman Nelson Castro resigned from the 86th State Assembly District seat this spring, revealing he had been acting as a mole for prosecutors, many figured it would be up to the Bronx Democratic Party to simply name his successor. That is how things have typically worked. Instead, Gov. Andrew Cuomo called for an election to fill the 86th district seat in September.
Bronx County Democrats may still get their man in office: Victor Pichardo, the man they endorsed, is also backed by U.S. Sen. Chuck Schumer and state Sen. Gustavo Rivera and has a major fundraising edge. Pichardo is an unknown in most Bronx political circles but worked for both Schumer and Rivera.
Concerns over corruption may have lead to Pichardo getting the nod from the county; other favorites for the nod were reportedly passed over because of concerns over their records. One of those candidates, Yudelka Tapia, has been in the race the longest out of any candidate and is well known in the community thanks to a failed bid for the City Council and her position as a district leader. But Tapia owes the city's Campaign Finance Board over $100,000 in back payments and fines. Tapia's fundraising for her bid for the 86th district has also been marred by questionable reporting.
Haile Rivera, another 86th district hopeful, is well known for his ties to the 2008 Obama campaign and his work with local nonprofits. Rivera has mostly waged his campaign online, trails in fundraising and has been relatively quiet about the fact that he worked as a staffer to disgraced former Sen. Pedro Espada.
A number of lower profile candidates also populate the race, including Keny Nuñez, a Dominican-born attorney who Castro put forward as his stand-in candidate. Nuñez missed two filing deadlines with the state Board of Election.

New Yorkers can expect a blast from the past when they step into their voting booths on Tuesday.
The city has dusted off the old lever machines in anticipation of having to turn around the primary's results quickly enough for a run-off. The Board of Elections sent out mailers to all registered voters on how to use the machines — which are older than any of the young voters that have grown up in the Bloomberg era.
All registered voters unfamiliar with the machines should have received instructions on how to use them on the day of the primary, and workers will be on hand to help those who need it. Any disabled primary voters who are unable to use the lever machines will be able to use the city's electronic voting system.
In case you need a refresher, here are the Board's instructions for the lever machines:
1. Pull the RED VOTING HANDLE from the LEFT to the RIGHT. Do not move it again until after you have completed your selections.
2. Make your selections by flipping the lever so that you can see the ⌧ next to the candidate's name.
3. Once you have made all your choices, cast your vote by pulling the RED HANDLE from RIGHT to LEFT.
Be prepared to use the lever machines again for the Oct. 1 runoff, if there is one. For the Nov. 5 general election, however, the Board will bring back the paper ballot and scanning system used in the most recent elections.
If you experience any problems or irregularities in the voting booth or at your polling site (broken machines, missing registration records, etc.), the New York Public Interest Research Group and Common Cause will be running a non-partisan voter helpline on Election Day. You can reach them at 212-822-0282.
State Government Editor David Howard King and City Government Reporting Intern Daniel Stein-Sayles contributed to this report.
Comments
Comment(s)
The comments section is provided as a free service to our readers. Gotham Gazette's editors reserve the right to delete any comments. Some reasons why comments might get deleted: inappropriate or offensive content, off-topic remarks or spam.
Last Updated (Feb 05, 2014)