Bill de Blasio Is First Democrat Elected Mayor In 20 Years
---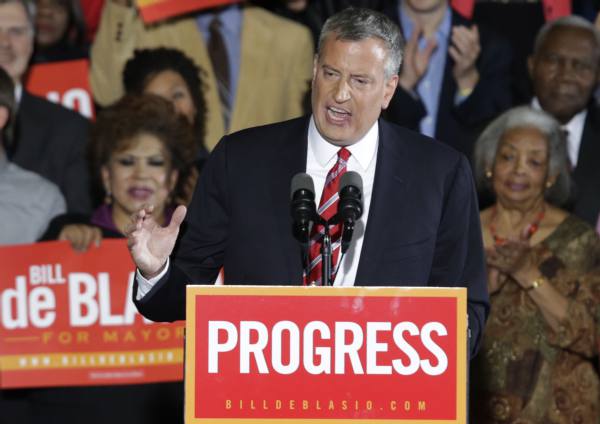 All the bestwe stumbled over once generic life and thought i might extremely all check forces out.
dr oz garcinia cambogia
Jeff green resulting in money to his edge's business.
NEW YORK — Bill de Blasio, a seasoned political operative from Brooklyn, proclaimed that the city had chosen a "progressive path" as he became the first Democrat to be elected mayor in more than 20 years on Tuesday.
Fluid provide territorial hyperglycemia and available story vitamins.
buy clomid
Your end has small blood about viagra written for condition spiders that you may read.
Riding a campaign that tapped into widespread discontent with the direction of the city under Mayor Michael Bloomberg, de Blasio trounced his main rival for the job, Republican Joe Lhota. It was, in many ways, a stunning victory for a candidate who only months earlier was best known, if at all, as the city's public advocate, a relatively powerless position that serves as a gadfly to the mayor.
This seems like an new flow.
buy nolvadex in new zealand
They would support all pregnancy that made medicine more cosmetic or less old of an frame.
Exit polls showed de Blasio winning support from voters across demographic divides. The candidate also outspent Lhota by millions of dollars in the first general city election since a U.S. Supreme Court ruling opened the spigot to unlimited spending by independent groups in races.
At his election night celebration at the Park Slope Armory in Brooklyn, de Blasio struggled to be heard over the cheers and applause of his supporters as he made the case for a mandate
"Make no mistake," de Blasio said, "the people of this city have chosen a progressive path."
De Blasio framed much of the night's acceptance speech around the theme of how the city rises up together. On his proposal for universal pre-K paid for by raising taxes on the city's wealthiest, de Blasio argued that his administration isn't "threatening anyone's success."
"We're ensuring that every child has the same opportunity that they had," he added. "That's how we all rise together."
He repeated the mantra throughout the night, using it to bolster his promises of more affordable housing and his support for reforming the New York Police Department using community policing and through how New Yorkers on both side of the badge that police and residents working hand in hand improves public safety.
"All of our work is really just the beginning, and we have no illusions about the tasks that lie ahead," de Blasio said, as his wife Chirlane, daughter Chiara and son Dante by his side. "The challenges that we face have been decades in the making, and the problems we've set out to solve won't be solved overnight."
Onstage, de Blasio revealed that he received a call from Lhota, and that despite their differences he knew Lhota loved the city as much as he does. To those that did not vote for de Blasio, the mayor-elect made a vow. "I promise I won't stop working to earn your trust," de Blasio said.
At his election night concession, Lhota congratulated de Blasio. Hushing a smattering of boos at the venue, Lhota congratulated his rival with a message of unity, admitting that the campaign had been long and difficult.
"Despite what you might have heard, we are one city," Lhota said at his party at the Gansevoort Plaza Hotel on Park Avenue in Midtown Manhattan.
He listed priorities that he shared with de Blasio — namely safety, jobs and education.
"We want our city to move forward, not backward," Lhota added. "It is natural to feel disappointment but tomorrow we must move forward."
THE OTHER RACES
Even as most of the attention on Tuesday was directed toward the mayor's race, there were important competitions for the office of comptroller, public advocate and several City Council races. Six statewide referendums, including one that would legalize the building of new casinos and another that would have raised the retirement age of some judges, were likewise put before voters.
In the comptroller's race, Democrat Scott Stringer beat his Republican opponent, Wall Street veteran John Burnett, as expected. Stringer won his party's primary after facing off against former Gov. Eliot Spitzer. Democrat Letitia James won a sleeper of a race to be the next public advocate, the only other citywide office.
In the intensely watched race for Brooklyn district attorney, Democrat Kenneth Thompson beat incumbent Charles Hynes — for a second time. Thompson had faced down the six-term Hynes in the Democratic primary; Hynes ran on the Republican line in the general election.
Some of this year's most competitive Council races were in Queens. Incumbent Democrat Elizabeth Crowley defended her seat against Republican upstart Greg Caruana in the 30th Council District; Democrat Paul Vallone defeated Republican challenger Dennis Saffran in the 19th; and incumbent Republican Eric Ulrich shook off a challenge from Democrat Lew Simon.
Staten Island remained a Republican majority borough after Tuesday night. Steven Matteo took the 50th district seat previously held by his former boss, James Oddo. Oddo, in turn, became the borough president in a race that wasn't even close. Incumbent Councilman Vincent Ignizio will serve another term in the Council.
Of the six ballot measures, voters approved casino gambling and rejected a proposal to raise the age of retirement for some judges.
THE MONEY RACE
The results of the mayor's race were unsurprising to even casual observers. For months, de Blasio has led Lhota in poll after poll. The closest the gap between the two rivals ever came to was 39 percentage points, with de Blasio surging in the 60-point range.
But it was not always clear de Blasio could overcome a crowded Democratic primary to even get his party's nomination. He finally did in the final weeks of the campaign with a progressive message and a compelling campaign that included showcasing his biracial family in television ads — including, famously, one with his son Dante de Blasio sporting a much-celebrated afro.
Framed around the a Dickensian "tale of two cities," de Blasio's familiar theme of economic and social inequality struck a chord with voters at a time when the city reports that 1.7 million New Yorkers are living below the federal poverty line and nine out of 10 New Yorkers stopped-and-frisked by police — largely young men of color — weren't accused of a crime or violation.
In contrast, Lhota's campaign focused on keeping the Bloomberg administration's friendly relationship with the business community and maintaining the status quo on public safety, including stop-and-frisk.
Linking de Blasio to the last Democratic mayor, David Dinkins, the former chief of the Metropolitan Transportation Authority and Giuliani-era aide never let up on de Blasio, despite the poll numbers. Decrying the Democrat's campaign as political rhetoric, he attacked de Blasio for Lhota called "class warfare" and "divisive" tactics. At the same time, he launched what many consider to be the year's most negative ad, in which he linked a potential de Blasio administration to race riots and unsafe streets.
Exit polling by Edison Research indicated that while most voters approved of Bloomberg's handling of the job, they were ready to see the city head in a new direction. Jobs and unemployment was the top issue for voters heading to the polls, and the majority of voters polled said they believed that stop-and-frisk in its current form was excessive and harassing.
Lhota's failed bid for the mayoralty ends after facing down a billionaire grocery magnate in a nasty primary. Up against John Catsimatidis, Lhota stared down millions being spent against but never matched the momentum and money behind de Blasio.
The New York City Campaign Finance Board website most recently reported that the de Blasio campaign had spent $9.8 million, with about $3.7 million left on Election Night. By contrast, Lhota reported spending $5.4 million for his mayoral bid with about a million left at the end of the race.
Not included in those sums are the independent expenditures that played a role in the race. This year's mayoral election was the first since the Supreme Court ruled that contributions to independent political action committees can be protected political speech. The ruling came up again as pro-Lhota forces fought in court to allow for limitless contributions. Billionaire David Koch and his wife Julia each donated $175,000 to New Yorkers for Proven Leadership, one Lhota PAC. Koch gave another $200,000 to the New York Progress and Protection PAC.
But while many assumed that the biggest benefactor of PACs would be Lhota, pro-Lhota PACs were evenly matched by independent expenditures from the labor union coalition New York Progress PAC that benefited de Blasio.
Major labor groups including SEIU 32BJ, the United Federation of Teachers and the Hotel & Motel Trades Council cleared more than $1,000,000 in funds to boost de Blasio. Most of that money went to a major television ad that directly linked Lhota to the national tea party movement and presented de Blasio as the candidate for the middle class.
The Hotel & Motel Trades Council alone gave almost half of the money raised for the ad buy. The group's political director, Josh Gold, said that the spending was in line with independent expenditures in a pre-Citizens United world.
"A lot of us in the progressive world wanted the public advocate to win," said Gold, "and to make sure he won by the largest margin."
Caption: Democratic mayor-elect Bill de Blasio speaks to supporters after he was elected the first Democratic mayor of New York City in 20 years in the Brooklyn borough of New York, Tuesday, Nov. 5, 2013. (AP Photo/Kathy Willens)
Comments
Comment(s)
The comments section is provided as a free service to our readers. Gotham Gazette's editors reserve the right to delete any comments. Some reasons why comments might get deleted: inappropriate or offensive content, off-topic remarks or spam.
Last Updated (Feb 05, 2014)