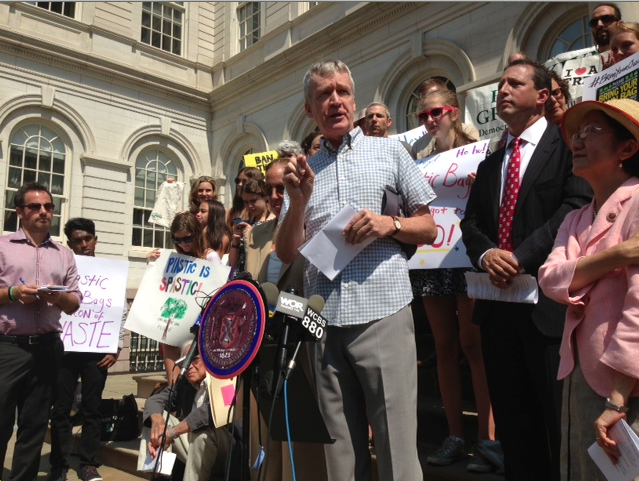 NEW YORK — In an effort to cut down on waste, City Council members and environmental advocates say they want to impose a 10 cent charge on each carryout bag.
Proponents of the bill that was announced earlier today say it will create a citywide incentive to reduce the use of plastic and paper carryout bags. But an industry group said the mandatory fee was a new tax and that it was unlikely that the proposed law would benefit the environment.
Councilman Brad Lander, one of the co-lead sponsors of the bill, said he believes the legislation was based on a tried-and-tested, commonsense approach to reducing "bag waste in New York City by at least 60 percent in a way that works for the environment and works for the city."
While several cities around the country have banned plastic bags with varying degrees of success.
Under the proposed City Council law, restaurants that rely on take-out and food delivery, as well as food stamps recipients, would be exempt. Some street vendors would also be exempt, unless they sell what a grocery store or retailer sells.
The American Progressive Bag Alliance, an industry lobbyist group, said it opposes the bill and argues that reusable bags are just as wasteful as carryout bags. Mark Daniels, chair of the APBA, said in a statement that lawmakers should "consider the facts and concentrate on meaningful legislation to boost proper reuse and disposal of grocery bags."
In 2008, the city implemented a law that requires larger retailers and wholesale stores to establish an in-store recycling program for plastic bags; however, a state law adopted in 2009 superseded it with a similar in-store recycling program.
Speaking to those efforts at plastic bag use reduction, Landers said recycling is an ineffective solution. "We just, it turns out, don't bring them back," he said. "We either throw them away because it's easier or they wind up blowing off the cart."
Mayor Michael Bloomberg proposed a similar carryout bag fee in 2008 — for 6 cents rather than 10 — but it was defeated by the City Council. Lander said the difference between the new legislation and what the mayor proposed equated to a tax, with the city collecting the revenue rather than the stores.
The bill is co-sponsored by Councilwomen Margaret Chin, who along with Councilwoman Gale Brewer attended today's press conference. Advocacy groups Bag It NYC, the New York League of Conservation Voters, Citizens Committee for New York City, among others, were also well represented.
Peter Kostmayer of CCNYC, one of the nation's oldest micro-funding organizations, said he finds strong support from communities around the city.
"There'll be some opposition and that's to be expected," he said