---
Enter the name of an office or candidate to begin.
eg. Christine Quinn, State Senate 21, City Council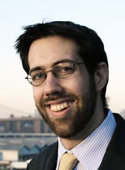 Daniel Squadron (D, WF)

Funds Raised: $1,402,834.00


Source: New York City Campaign Finance Board>
---
PROFILE:
Biography: State Sen. Daniel Squadron has been known as a bit of a prodigy. The Brooklyn resident served as a top aide to U.S. Sen. Chuck Schumer while in his twenties and helped Schumer write his book. Squadron also worked on former Congressman Anthony Weiner's failed 2005 mayoral bid. In 2008, Squadron successfully won a primary against 30-year Democratic incumbent Sen. Martin Connor to represent the 26th State Senate District. His bid for the seat was buoyed by the support of Mayor Michael Bloomberg, Schumer and Weiner during the race. Squadron's wife, Elizabeth Weinstein, is Bloomberg's director of the Mayor's Office of Operations. As state senator, Squadron has pushed major pieces of ethics reform and gun control legislation. He also introduced legislation on behalf of Bloomberg, and backed him in his successful bid to renew mayoral control of schools. Squadron announced in 2012 that he would run for public advocate.
---
Daniel Squadron
(D, WF) (won general election)
Joseph Nardiello
(R) (defeated in general election)
Velmanette Montgomery
(D, WF) (incumbent)
John A. Jasilli Jr.
(R, C) (declared)
Saul J. Farber
(R, I) (defeated in general election)
Daniel Squadron
(D, WF) (incumbent)
Jacqueline Haro
(R, C) (declared)
declared running for:
OTHER CANDIDATES RUNNING FOR City Public Advocate:

Reshma Saujani (D) (declared) · Letitia James (D) Subject to term limits in 2013 (declared) · Sidique Wai (I) (declared) · Catherine Guerriero (D) (declared) · Charles Barron (Freedom) (exploring) ·
incumbent running for:
OTHER CANDIDATES RUNNING FOR State Senate for District 26:

Saul J. Farber (R, I) (defeated in general election) · Jacqueline Haro (R, C) (declared) ·
won general election running for:
OTHER CANDIDATES RUNNING FOR State Senate for District 25:

Joseph Nardiello (R) (defeated in general election) · Velmanette Montgomery (D, WF) (incumbent) · John A. Jasilli Jr. (R, C) (declared) ·